全职导师
---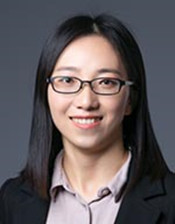 教育背景
2009.9-2014.6,浙江大学,动力工程及工程热物理专业,博士

2012.9-2013.8,美国康奈尔大学

(

Cornell University),

化学工程专业,交流访问学生

2005.9-2009.7,西安交通大学,能源动力系统及自动化专业,学士
工作经历
2018.4

-

至今,上海交通大学,中英国际低碳学院,长聘教轨副教授

2014.9-2017.8,美国爱荷华州立大学(Iowa State University),生物经济研究所(Bioeconomy Institute),博士后
研究方向
生物质能源热化学转化技术

新能源系统分析与优化

二氧化碳转化利用
科研项目
能源

清洁利用国家重点实验室开放基金,生物质催化加氢热解及多联产系统研究,负责人

上海交通大学-爱丁堡大学种子基金

,Challenges and opportunities for biomass and waste to energy with carbon capture and storage in the UK and China, 负责人

Life-cycle and techno-economic analysis of carbon emission reduction from coal-fired power plant, participant

Techno-economic analysis of novel biomass thermochemical and electrochemical energy systems, participant

Techno-economic analysis of an integrated biorefinery producing drop-in biofuels, biobased products, and hydrocarbon chemicals via fast pyrolysis platform, participant

A model-based assessment of socioeconomic, policy, and environmental implications for sustainable bioenergy, participant

Hydrothermal conversion of algae biomass to biofuel, participant

国家973项目"生物质制取高品位液体燃料基础问题研究"(2013CB228100), 参与

国家973项目"生物质转化为高品位燃料的基础问题研究"(2007CB210200), 参与
代表性论文专著
Y Zhou, Q Dang*, Y Wu, T Lei. A mechanistic investigation of lignin dimer fast pyrolysis from reactive molecular dynamics simulation. Journal of Environmental Chemical Engineering, 9(6): 106484, 2021.
Q Dang*, X Zhang, Y Zhou, X Jia. Prediction and optimization of syngas production from a kinetic-based biomass gasification process model. Fuel Processing Technology, 212: 106604, 2020.
X Zhang, Y Zhou, X Jia, Y Feng, Q Dang*. Multi-criteria optimization of a biomass-based hydrogen production system integrated with organic Rankine cycle. Frontiers in Energy Research, 8: 584215, 2020.
Q Dang, W Li, MM Wright. Techno-economic analysis of a hybrid biomass thermochemical 
and electrochemical conversion system. Energy Technology, 6: 178-187, 2018.

W Li, Q Dang, RC Brown, D Laird, MM Wright. The impacts of biomass properties on pyrolysis yields, economic and environmental performance of the pyrolysis-bioenergy-biochar platform to carbon negative energy. Bioresource Technology, 241: 959-968, 2017. 

W Li, Q Dang, R Smith, RC Brown, MM Wright. Techno-economic analysis of stabilization of bio-oil fractions for insertion into petroleum refineries. ACS Sustainable Chemistry

&

Engineering, 5(2): 1528-1537, 2017. 

Q Dang, W Hu, M Rover, RC Brown, MM Wright. Economics of biofuels and bioproducts from an integrated biorefinery. Biofuels, Bioproducts and Biorefining, 10: 790-803, 2016. 

Q Dang, MM Wright, RC Brown. Ultra-low carbon emissions from coal-fired power plants through bio-oil co-firing and bio-char sequestration. Environmental Science & Technology, 49(24): 14688-14695, 2015.
W Hu, Q Dang, M Rover, RC Brown, MM Wright. Comparative techno-economic analysis of advanced biofuels, biochemicals, and hydrocarbon chemicals via the fast pyrolysis platform. Biofuels, 7(1): 57-67, 2015. 

L Ou, B Li, Q Dang, P Meyer, S Jones, RC Brown, MM Wright. Understanding uncertainty of transportation fuel production via biomass gasification and mixed alcohol synthesis. Energy Technology, 4(3): 441-448, 2015. 

B Li, L Ou, Q Dang, P Meyer, S Jones, RC Brown, MM Wright. Techno-economic and uncertainty analysis of in situ and ex situ fast pyrolysis for biofuel production. Bioresource Technology, 196: 49-56, 2015. 

Q Dang, C Yu, Z Luo. Environmental life cycle assessment of biofuel production via fast pyrolysis of corn stover and hydroprocessing. Fuel, 131: 36-42, 2014.
Q Dang, Z Luo, J Zhang, J Wang, W Chen, Y Yang. Experimental study on bio-oil upgrading over Pt/SO42-/ZrO2/SBA-15 catalyst in supercritical ethanol. Fuel, 103: 683-692, 2013.
W Chen, Z Luo, Y Yang, G Li, J Zhang, Q Dang. Upgrading of bio-oil in supercritical ethanol: using furfural and acetic acid as model compounds. BioResources, 8(3): 3934-3952, 2013. 

J Zhang, Z Luo, Q Dang, J Wang, W Chen. Upgrading of bio-oil over bifunctional catalysts in supercritical monoalcohols. Energy & Fuels, 26(5): 2990-2995, 2012. 

X Li, J Wu, Q Dang. Thermal Conductivity of Liquid Diethyl ether, Diisopropyl Ether, and Di-n-butyl Ether from (233 to 373) K at Pressures up to 30 MPa. Journal of Chemical & Engineering Data, 55(3): 1241-1246, 2010. 

Q Dang, L Ou, AL Thomas, RC Brown, MM Wright. Advances in the life cycle assessment of biorenewable technologies. A book chapter of Advances in Environmental Research by Nova Science Publishers. 2017.
教学工作
高等工程流体力学(Advanced Fluid Mechanics),研究生,48学时,秋学期

生物质能利用技术

(

Biomass Conversion Technologies

),

研究生,

32

学时,春学期
学术兼职
担任Applied Energy, Fuel Processing Technology, Biomass and Bioenergy, Biotechnology for Biofuels, Energy Technology, Renewable Energy, Biofpr等期刊审稿人