焦点新闻
---
2019 LCC International Graduate Programs Admission Information
Introduction
The China-UK Low Carbon College (LCC) was established by Shanghai Jiao Tong University (SJTU) with the joint efforts of the University of Edinburgh (UoE) in May 2017. Located in Lingang, Shanghai, LCC is the first college in China which pioneers in low carbon research and education. The vision of the college is to become a world-leading higher education institute with international influence, providing a platform for graduate education, scientific research, executive training, and innovation and incubation in the low carbon field.
LCC has launched Master Programmes in Low Carbon Environment and Low Carbon Energy which are fully taught in English by outstanding faculty with international education or research backgrounds from global leading universities.
Program Overview
The interdisciplinary nature of the programmes integrates the elements of low carbon technology and social science on the basis of Environment Engineering and Power Engineering. It provides a detailed understanding of Energy Systems, Environmental Policy, Business and Climate Change and Sustainable Development. LCC intends to build up a talent database of world-leading experts and scholars of the low carbon industry. The main employment sectors for our graduates are those of climate change consultancy, renewable energy and carbon management project development, as well as government and NGO climate change advisors.

Curriculum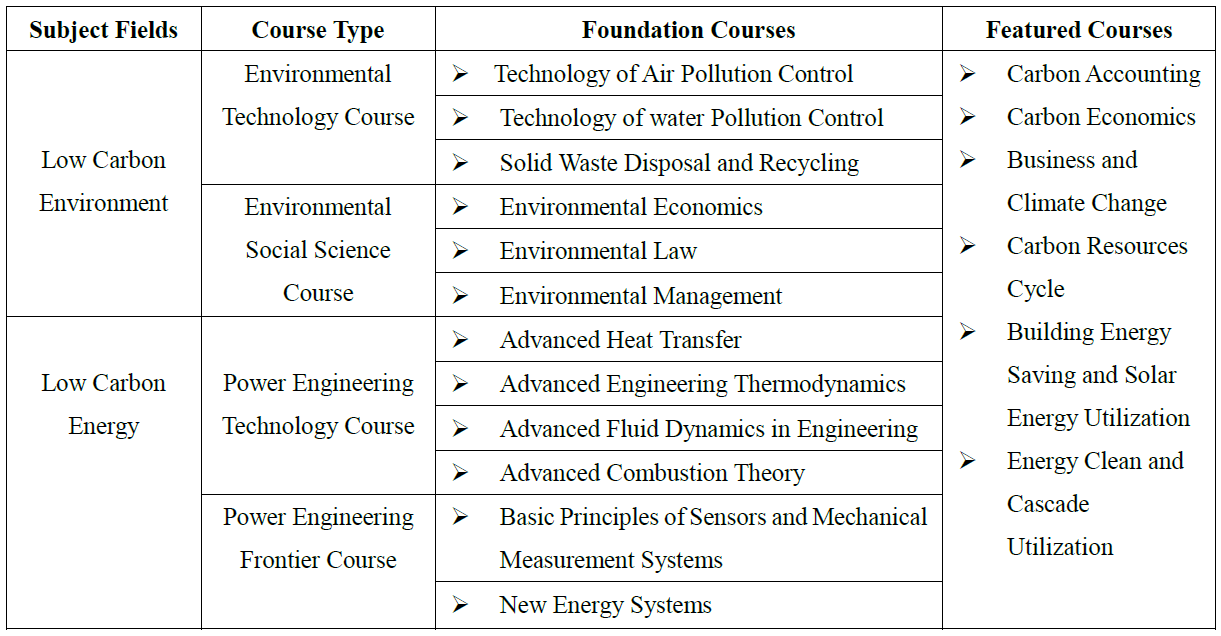 Industrial Partners

LCC Faculty

LCC Visiting Scholars

Admission
Eligibility
Non-Chinese citizen

A bachelor's or equivalent degree from an accredited college or university

Demonstrated proficiency in English
How to Apply
Step 1: Complete the Online Application
Complete and submit an online application at Study@SJTU (http://apply.sjtu.edu.cn/) by the application deadline.
Step 2: Pay the Application Fee
The application fee is RMB 800 or USD 120, non-refundable and non-transferable. Payment must be made using RMB or USD. You can choose online payment or bank transfer in the online application system.
List of Supporting Documents
1. Degree Certificates
2. Official Transcripts
3. Personal Statement and Study Plan
4. Resume
5. Two reference letters from previous professors
6. Language proficiency certificate and score report
Valid TOFEL (higher than 90), or academic IELTS (at least 6)

Native English speakers or applicants with a bachelor's degree acquired in English speaking countries can be waived from the language requirement.

Applicants with New HSK certificate will be appreciated
7. A scanned copy of your passport
8. Passport-size photo
Note: If your documents are not in English or Chinese, please have them translated into either English or Chinese by an authorized translation agency. After this please upload both the translated and original documents onto our application system.
Key Dates
Dec 01, 2018: Start of Application
March 31, 2019: Deadlines for Scholarship Application
May 31, 2019: Deadline for Master Programme Application
Sep, 2019: Registration (Exact date TBD.)
Tuition Fee
80,000 RMB for each full-time Master Programme (excluding tuition fee and expenses at UoE).
Contact Information
Cara Liu
Email: ccliu@sjtu.edu.cn
Address: Rm.429 Teaching Affairs Office, China-UK Low Carbon College, 3 Yin Lian Road, Shanghai