On 12th June 2018, Vice President Zhen Huang of SJTU and Senior Vice Principal Charlie Jeffery of UoE signed a Seed Funding Agreement on behalf of both universities to finance a £600,000 collaborative research, teaching and innovation development fund. The 3-year joint seed fund will sponsor 10 projects every year, supporting international travel and accommodation for academic and professional staff and promoting collaborative research, teaching and innovation development in areas of common interest.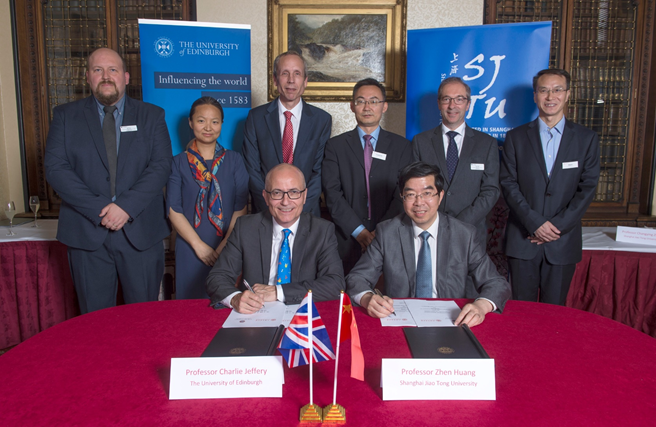 Below are the successful applications of year 2018/19 (first round).
2018/19 SJTU-UoE Seed Fund - Successful Applications

No.

UoE PI Name

SJTU PI Name

Project Title

1

Neil Robertson

赵一新Yixin Zhao

Lead free halide perovskite for solar cells

2

Stuart Haszeldine

李佳Jia LI

Carbon Capture and Storage, low carbon energy to create value in China

3

Daniel Friedrich

徐会金Huijin Xu

Experimental and theoretical evaluation of heat transfer in thermochemical energy
storage

4

Gareth Harrison

吕小静Xiaojing Lv

Exploring low carbon multi-energy systems

5

Dan van der Horst

卢婷婷Tingting Lu

Best practice in green space provision for low carbon cities

6

Mathieu Lucquiaud

党琪Qi Dang

Challenges and Opportunities for Biomass and Waste to Energy with Carbon
Capture and Storage in the UK and China

7

Chang Liu

蔡伟伟Weiwei Cai

Cost-effective CO2 and CO monitoring with laser absorption spectroscopy

8

Xi Liang

Jeffrey Wilson

Investigating the Value of Carbon Capture and Sequestration in a Natural Capital
Context

9

Ondrej Masek

董雪Xue Dong

Biomass gasification/pyrolysis driven by high flux concentrated solar radiation

10

Ruth Doherty

余海珊Haishan Yu

Public perception on the integrated management of climate change and air pollution
The second-round call for applications is expected to start at the end of 2019.