ABOUT LCC
Shanghai Jiao Tong University (SJTU) is one of the most prestigious universities in China. According to the 2018 QS World University Rankings, SJTU is ranked 62th globally.
The China-UK Low Carbon College (LCC) is the first college in China which pioneers in low-carbon research and education.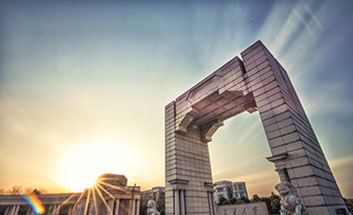 Currently, LCC has two full-time Master Programs in Low Carbon Environment and Low Carbon Energy. It has established partnerships with top universities including the University of Edinburgh (UoE) and University College London (UCL).
Meanwhile, LCC is actively seeking collaboration opportunities with other world-class universities. It aims to establish a training base for interdisciplinary and practical talents in the field of low-carbon industry and carbon finance.
PROGRAMME OVERVIEW
Climate change is a common challenge faced by all humanity. Demand has never been higher for sound evidence on public engagement with energy and environment issues, and public support for community and commercial investments in low carbon energy generation. The Master Programmes of LCC intend to create a community of diverse culture, and aim to train students to have a comprehensive understanding of the low carbon industry and a deep insight into a sustainable society. Our graduates go on to a wide range of activities in industry, government or the NGO sector.
The Low Carbon Environment & Low Carbon Energy programs are dual degree programs with the University of Edinburgh. These programs are mostly conducted in English and normally take two and a half years to complete. Students can spend the second year at the University of Edinburgh (UoE) if they meet the entry requirements.
Students spend their first year studying at the LCC in Shanghai, and can apply to study at UoE for their second year, at the end of which (if successfully completed) they receive a degree from UoE. Students then return to LCC to complete their thesis, and receive a graduation diploma from Shanghai Jiao Tong University.
LCC adopts a double advisory system.Each student will have an academic advisor and an industrial advisor. Through the double advisory system, students will gain knowledge and practical skills, broaden their social network and enhance their employment competitiveness with the help of their industrial advisors.
ADMISSION
Eligibility
- Non-Chinese Citizen
- A bachelor's or equivalent degree from an accredited college or university
- Demonstrated proficiency in English
How to Apply


Step 1: Complete the Online Application
Complete and submit an online application at Study@SJTU(http://apply.sjtu.edu.cn/)
by the application deadline.

Step 2: Pay the Application Fee
The appliation fee is RMB 800 or USD 120,
non-refundable and non-transferable.
List of Supporting Documents
Degree certificates
Official Transcripts
Personal statement
Resume
Two reference letters from previous professors
Language proficiency certificate and score report

Valid TOFEL (higher than 90), or academic IELTS (at least 6)
Native English speakers or applicants with a Bachelor's degree acquired in English speaking countries can be waived from the language requirement.
Applicants with New HSK certificate will be appreciated

A scanned copy of your passport
Passport-size photo
Note: If your documents are not in Englishor Chinese, please have them translated into either English or Chinese by an authorized translation agency. After this please upload both the translated and original documents onto our application system.
Key Dates
| | |
| --- | --- |
| Dec 01, 2017 | Start of Application |
| March 31, 2018 | Deadline for Scholarship Application |
| May 31, 2018 | Deadline for Master Programme Application |
| Sep, 2018 | Registration (Exact date TBD.) |
Tuition Fee
80,000 RMB for each full-time Master Programme
CURRICULUM
MEng in Low Carbon Environment
Core Courses:
Environmental Management
Environmental Law
Environmental Economics*
Theories and Technology of Water Pollution Control
Theories and Technology of Air Pollution Control
Solid Waste Disposal and Recycling
Carbon Accounting*
Carbon Economics*
Business and Climate Change*
Industrial Ecology
Carbon Resources Cycle*
Selective Courses:
Energy,Climate Change and Sustainable Development in China
Air Quality Modeling and Forecasting
Advanced Carbon Cycle Science and Technology
Urban Development & Management
MEng in Low Carbon Energy
Core Courses:
Advanced Engineering Thermo dynamics
Advanced Heat Transfer
Advanced Fluid Dynamics in Engineering
Advanced Combustion Theory
New Energy Systems*
Basic Principles of Sensors and Mechanical Measurement Systems
Carbon Accounting*
Carbon Economics*
Business and Climate Change*
Clean Energy and Cascade Utilization
Analysis of Energy Utilization Systems
Selective Courses:
Energy, Climate Change and Sustainable Development in China
Advanced Carbon Cycle Science and Technology
Environmental Economics
Building Energy Saving and Solar Energy Utilization
Combustion and Emission Control in Internal Combustion Engine
Note: Courses marked with * are featured courses offered by LCC.
SCHOLARSHIPS ​
Note: In general, the support duration cannot be extended. All scholarship recipientsare obliged to attend the annual comprehensive scholarship assessment during April and May of each year to confirm their qualification of the scholarship for the next year. Excellent graduate students can also get certain financial support by applying for proper TA or RA positions on campus. For information about accommodation allowance, please check Study@SJTU (http://apply.sjtu.edu.cn/).
How to Apply
1) For Type A (Chinese Government Scholarship), applications must be made at both China Scholarship Council (CSC)(http://laihua.csc.edu.cn) and Study@SJTU(http://apply.sjtu.edu.cn/). Applicants are also encouraged to apply to China Scholarship Council through the Chinese Embassies or relevant organizations in their home country between November and April (varies from country to country).
2) For Type B, C, or D, applications must be made through Study@SJTU (http://apply.sjtu.edu.cn/).
CONTACT US
For more information about our Master Programmes, please contact:
Cara Liu
Email: culcc@sjtu.edu.cn
Tel: +86 21 54741321
Address:
China-UK Low Carbon College,
Shanghai Jiao Tong University
800 DongChuan Road, Shanghai
Website: http://lcc.sjtu.edu.cn


Create a sustainable future with the LCC.