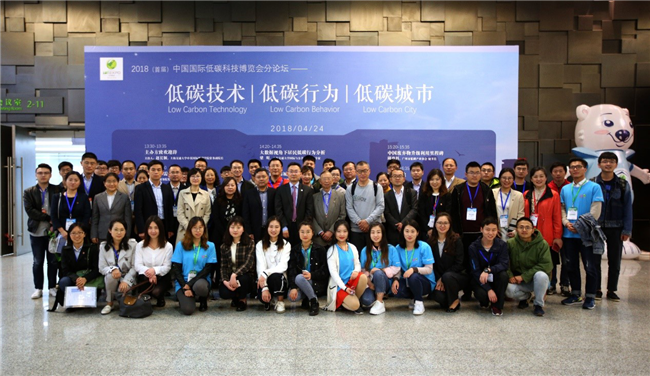 April 24th, 2018. Shanghai – A sub-forum of China's first International Low Carbon Technology Expo focusing on low carbon technology, low carbon behavior, and low carbon city, was held in Shanghai by the China-UK Low Carbon College.
The forum was hosted by Prof. Zhao Changying, the Executive Dean of the LCC. The guest speakers included Zhou Hongchun, Researcher and Deputy Inspector of Development Research Center of the State Council, Jin Zhijian, Deputy Director of National Energy Smart Grid Research and Development Center, Song Dengyuan, Chief Scientist of Yingli Group and Director of National Key Laboratory of Photovoltaic Materials and Technology, Wang Hong, CEO of Jiangsu Qi Neng New Energy Material Co.,Ltd., Liu Qiang, Director of United Automotive Electronic Systems Co. Ltd., Rao Hong, General Planner of ARUP Group, Qiu Dengke, Secretary-General of Guangzhou Low-Carbon Industry Association, and Liang Xin, Specialist in SJTU School of International and Public Affairs.
Aiming to raise citizens' awareness of the impact of human activities on climate change, this forum provided a platform for government agencies, businesses, scholars and specialists to share their opinions on solutions for creating a low-carbon society and a green and sustainable future.
The speeches given by our guest speakers mainly focused on "Co-construction and Sharing of Low-Carbon City," "Energy Internet of Low-Carbon City - Energy System in Low-Carbon City," "Low-Carbon Technology-Car Electric Drive," "Analysis of Residents' Low-Carbon Behavior under the Perspective of Big Data," "Heat Storage Technology and City Heating," "Low-Carbon City - The First C40 Project in China: Peiking Shougang Park," "Living City and Low-Carbon Life — Building Integrated Photovoltaics," and "Milestone of Upgrade and Utilization of Chinese Waste."
During the round-table discussion session, the guests shared their experience in the innovative application of low-carbon technologies in the development of cities and offered suggestions on the promotion of low-carbon technology innovation and the prospects of China's low-carbon industries.