Theme: "Green for Life"
Organizer: China-UK Low Carbon College
Time and Venue:
1) Time: 2020.06.29 —— 2020.07.07
2) Venue: No. 3 Yinlian Road, Pudong District, Shanghai, PRC.
China-UK Low Carbon College, Shanghai Jiao Tong University (Lingang Campus)
Application:
1) Website: http://apply.sjtu.edu.cn
2) Application Deadline: June 2nd, 2020
3) Eligibility: The program is open to post-graduate students from all over the world.
4) Application Materials:
One copy of Identity Card or Student Card

Application Form

English Certificates (for student from non-English speaking countries)

CV

Personal Statement
Program Overview:
The 2020 International Graduate Summer School — Green for Life will be organized and hosted by China-UK Low Carbon College, Shanghai Jiao Tong University. By focusing on four modules: Frontier Lecture (including Laboratory Teaching), Seminar, Enterprise Visit and Study Tour within low carbon area, this Summer School aims at facilitating academic communication, enhancing scientific research abilities, encouraging innovation and motivating achievements.
Highlights
Leading Edge

: The summer school will integrate resources from the British Government, the University of Edinburgh and Shanghai Jiao Tong University as well as other organizations to carry out an in-depth cooperation.

Interdisciplinary

: China-UK Low Carbon College has absorbed and transformed the cutting-edge technologies and innovation achievements from the University of Edinburgh in related fields, and merged with the School of Mechanical Engineering as well as School of Environmental Science and Engineering, hoping to broaden academic ideas, stimulate research vitality, and release the innovative kinetic energy and cross-exploration ability.

Intelligence

: China-UK Low Carbon College is based in Lin-gang Special Area of the Shanghai Pilot FTZ. The "intelligent manufacturing" of Lin-gang is developing steadily and sustainably in terms of promoting the coordinated development of intelligent manufacturing.

Low-carbon

: The four modules of LCC Summer School are closely linked with the theme of low-carbon development, which fully reflects the characteristics of SJTU, and also vigorously promotes the good tradition of SJTU students as being pragmatic and learning for practice in the meantime.
About LCC
China-UK Low Carbon College, established by Shanghai Jiao Tong University together with its UK counterparts such as the University of Edinburgh, is one of the joint institutes under Shanghai Jiao Tong University. Strongly supported by Shanghai Lingang Area Development Administration, China-UK Low Carbon College is a pilot program as regards international collaborative education in carbon resources management. Customized open courses and curriculum in carbon finance, carbon management and circular economy will be delivered with forward-looking contents and appropriate flexibility in LCC, accommodating diversified learning needs of people in different areas and at different levels from institutions and entities that related to low-carbon area, so as to cultivating much more professional and creative experts, businessmen and executives in the field.
About Faculty
Overseas Faculty:

LCC Faculty: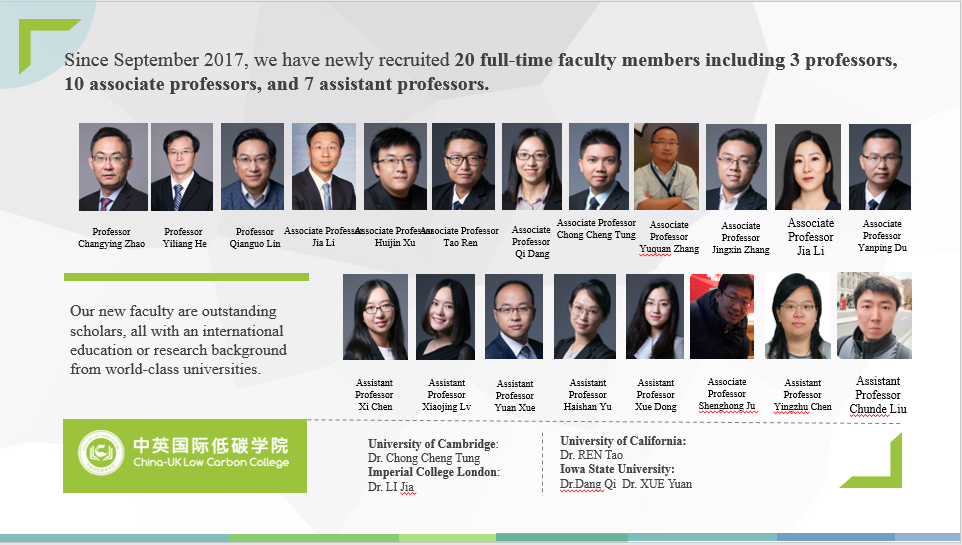 Contacts
Ms. Shi
Tel: 021-80160861
E-mail: shiqing@sjtu.edu.cn
Address:
Lingang Campus, Shanghai Jiao Tong University
RM A429, China-UK Low Carbon College, No.3 Yinlian Road, Pudong New Area, Shanghai