Editor's note: Titilayo Rachel Enigboka is a Nigerian doctoral student in China-UK Low Carbon College, Shanghai Jiao Tong University (SJTU). She is committed to tackling the global challenges of climate change and energy crisis and promoting the popularity of Chinese culture abroad.
Fostering low-carbon energy and promoting global green development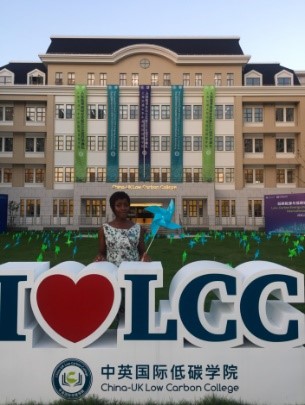 Caption: Titilayo Rachel Enigboka poses for a photo on the campus of China-UK Low Carbon College, Shanghai Jiao Tong University.
Enigboka became a graduate student in the SJTU China-UK LCC in 2018. She chose to pursue studies in the discipline of environment and energy after gaining a master's degree in 2021.
Early in her undergraduate studies at home, Enigboka set out to concentrate on the issue of global low-carbon energy, which is closely related to the sustainable development of humanity.
Nigeria is the largest oil producer and the largest emitter of greenhouse gases by volume in Africa. Enigboka realized that she had to go abroad after college if she wanted to do more for environmental governance in Nigeria and the world and make contributions to energy conservation.
With its large population and long-term economic growth, China has become an alluring country for Enigboka to study its experiences in striking a balance between environmental protection and economic development.
She has been deeply impressed with important discourses that lucid waters and lush mountains are invaluable assets and with China's huge investments and great strides in the development of green energy and environmental conservation.
Enigboka was admitted to the LCC in 2018 and embarked on a journey to pursue research on low-carbon energy.
Under the guidance of her academic supervisors, she quickly focused her academic orientation, expanded her personal connections and further consolidated scientific research.
Enigboka won high acclaim from scholars for the publication of a research paper, titled "Application of Co2 Geologic Storage Experience to Underground Hydrogen Storage Reservoirs", at the 15th International Conference on Greenhouse Gas Control Technologies (GHGT-15) on March 2021.
Right now, she has been working on her doctoral degree still in LCC.
Fascinated by traditional Chinese culture and robust economic development
Before her arrival in China, Enigboka knew China is an ancient country with a history of more than 5,000 years. It is also a country with fast economic development in a span of four decades.
However, what Enigboka knew about China came mostly from foreign media because she had never personally visited the country.
After living in China for four years, Enigboka said that the country has been endowed with both profound historical and cultural heritage and rapid economic growth.
She has been deeply impressed by traditional Chinese culture, the hospitality of the people and delicious Chinese food.
Last year, at the invitation of her classmates, she attended a dragon boat competition held by the SJTU during the Dragon Boat Festival, which falls on the fifth day of the fifth month on the Chinese lunar calendar.
The special activity left a beautiful and memorable impression on Enigboka.
She can now speak Mandarin Chinese fluently and has fostered great interest in Chinese calligraphy, which she believes will help her better grasp the essence of the country's culture.
During the past four years, Enigboka has cultivated deep affection for Shanghai, which has used its inclusive and opening-up culture to help foreign people better adapt to their new life.
She has been to many other Chinese cities besides Shanghai, adding that she can always expect the hospitality of the people during her visit to different regions.
When talking about the connotations behind her Chinese name (Chen Yue), Enigboka explained that "Chen" is a family name of a large population in China and represents glorious Chinese civilization. "Yue" in Chinese is closely related to her Nigerian name.
To stay longer in China
Enigboka said that after graduation she would like to stay in China, integrate her learning with the society, and learn about Chinese wisdom and solutions in tackling climate change.
She went on to say that she will transfer what she learned in China to Nigeria and make contributions to solving environmental and energy problems in her country and the world.
She is willing to promote traditional Chinese culture and make China better known among the Nigerian people.