Editor's Note: Takudzwa Martin Mashamba was a Chinese government scholarship recipient for the year 2021. He is currently a master's student at the China-UK Low Carbon College (LCC), majoring in Power and Energy engineering and researching hybrid aircraft power systems for drones.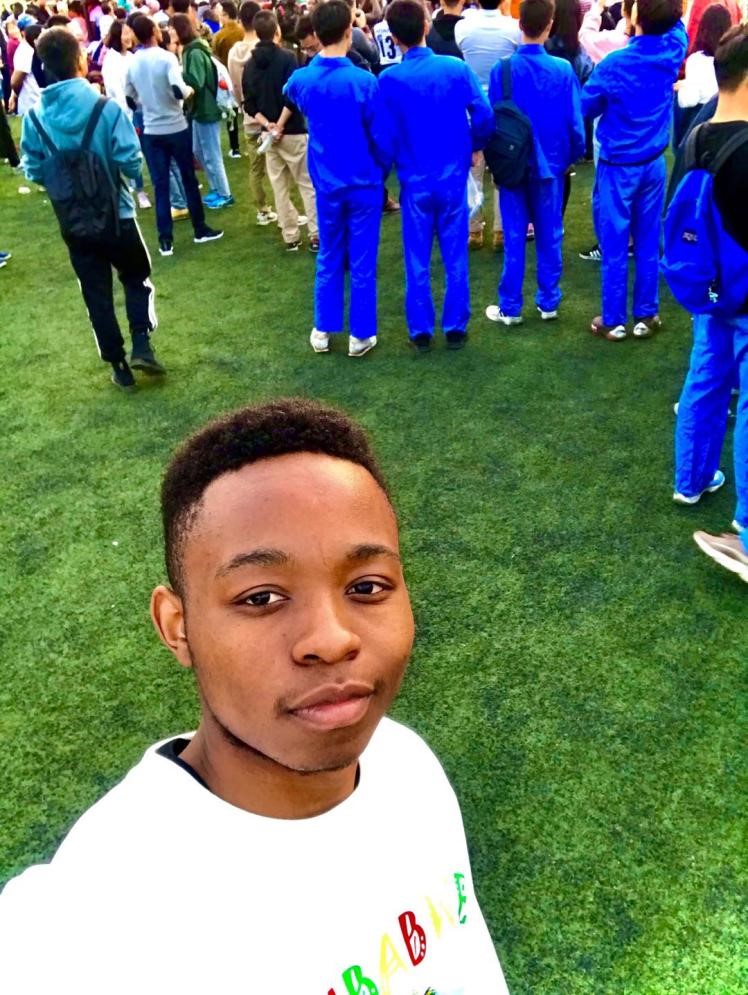 In the beginning
Mashamba, whose Chinese name is 马伯恩, comes from the southern-African country of Zimbabwe and is the oldest of three siblings. From a very young age, he envisioned himself becoming an engineer and took up scientific subjects to study in high school. As soon as he graduated, he aimed to further his studies abroad and amongst his options, he chose China, a thriving and upcoming giant in his field of interest, aeronautics. After graduating from Nanjing University of Aeronautics and Astronautics (NUAA) with his bachelor's, he enrolled at Shanghai Jiao Tong University (SJTU), one of the top universities in China and acclaimed worldwide. It is often a study destination selected by foreign students in China. Through his experience in SJTU, he believes the university matches its reputation and acclaimed honor. Since September 2021, he has been a full time master's student at LCC.
Cultivating a work ethic dedicated to achieving research excellence
The fairly new but ingeniously motivated Low Carbon College is determined to become the par excellence of ground breaking technology in low carbon studies. In its short existence, it has already conceived and brought forth many talents in this field. The research work being done in this college is of utmost priority for China because of the dual-carbon goal set by the government. The professors and academic personnel responsible for guiding and leading these various research fields are all driven to achieve the highest attainable standards. Such commitment not only exists in LCC but is integral in all of the colleges that make up SJTU. The university also sees to it that students are facilitated with all the materials they need for their work, hence sparing no expense on research laboratories, classrooms and campuses. Since his enrollment, Mashamba believes that him being part of this university is a great opportunity to nurture his inherent talent and realize his dreams. So, in his little corner of research work, he spends many hours reading research articles, and modelling power systems on the MatLab Simulink software on his laptop.
Navigating challenges and learning new things
Being a top university in China, SJTU enrolls the cream of the crop of Chinese students. This level of domestic competitiveness can result in Chinese students having a stronger foundation in their major than some of their international counterparts, which can be intimidating to some students. However, Mashamba saw this challenge as an opportunity to push himself further in his academic pursuits. Exposed to an academic environment of focused, ingenious and motivated colleagues, he quickly became a bird of the same feather. He was determined to live up to his fullest potential. Already, he has made tremendous progress in his coding ability by using MatLab and other programming languages.
When asked "why China?" Mashamba would respond with another question, "Why not China?", before highlighting some of the great strides China has made in his field of interest. The development of the C919 aircraft is a notable feat, and space exploration is another arena in which China has been striving to make their mark. China is opening its arms to those with fresh ideas and will readily support them. The close ties between his motherland and China have also been a catalyst amongst students hoping to study abroad. For Mashamba, he personally wanted to experience a new environment, new culture and new world. There is definitely a difference between the China you hear of and the China you experience. So he made the decision to come to China.
Research and innovation
Research can be challenging and often requires determination to achieve breakthroughs. Before coming to China, Mashamba had been doing an internship at Air Zimbabwe to learn about the different aspects of aviation and engineering. The most fascinating part of his time there was learning about aircraft power systems - the engine of the aircraft. With the ever increasing greenhouse gas emissions in our atmosphere endangering the planet , much investment has gone into researches ways of curbing emissions. This has involved introducing new technology to the transport sector, where aviation has not yet witnessed a significant transformation of its power systems, which are some of the main perpetrators of emissions.
Mashamba has endeavored to become one of the minds exploring alternative and green ways of powering modern aircraft with little or no emissions, which will be extremely challenging. He has the ambitious goal of developing a power system for contemporary aircraft fueled by the most abundant element in the universe, hydrogen. The first iterative step towards this goal is to develop a hybrid engine, which is a conventional gas turbine engine coupled with a high temperature fuel cell, in his case, the solid oxide fuel cell (SOFC). This is a highly efficient system, which if well pursued, can be a step towards de-carbonizing aviation. Under the guidance and tutelage of professor Lyu Xiaojing, who is fluent in this field and has abundant experience, Mashamba is making steady progress towards this goal. He is to publish a research paper on the findings within the year, which will be his first published research paper. He also wants to explore other aspects of engineering and innovation, such as instance rocket engineering in the future.
In recent years, much competition has been ignited with research teams from other universities, who are also charting this unexplored territory. This competition fosters creativity and motivation, which is synonymous with great innovations and inventions. As such, Mashamba is always picking his brain for new ways of doing the same thing, which can be such a frustrating process as coming up with new ideas is not so easy. Regardless, he marches on with a firm belief that the reward lies behind this hurdle.
Post-research prospects and employment
The conventional route for a graduate after finishing their research is to find employment in big companies like General Electric and Rolls Royce. In Mashamba's case, he is still navigating his options and is looking for any opportunities at Chinese companies. Pursuing a doctorate degree is under consideration too. He believes that one day he will come up with an ingenious and innovative idea that will stand amongst the ranks of magnetic resonance imaging (MRI) technology, which was a breakthrough in medicinal science. His modest goal is to stay and work in China a while longer to obtain more experience and fine-tune his abilities. The biggest hurdle facing him in his pursuit to work in a Chinese company is the language. Therefore, he is working hard to improve his proficiency.
Both academically and in life, he is constantly bombarded with a continuous influx of new knowledge, whether it be during a research meeting or while eating with friends, it's a never ending barrage of knowledge. Mashamba has embraced and enjoyed the benefits of learning about, living and studying in China.
Social inclusion
Before coming to SJTU, Mashamba's social circles were confined to foreign students, meaning he needed to adapt to a new environment with more Chinese classmates. Fortunately, he was capable of integrating into his new social life gracefully and has made many friends with his Chinese classmates, who to him, were more like brothers and sisters. Their help and care, especially in times when he couldn't well himself in, be it academically or in daily life, helped him feel the amicability and inclusiveness of the university. This experience has truly been a great hallmark of his time in China.
Experiencing the culture
Besides the breathtaking buildings and environment, China has one of the most diverse cultures one could experience. All in all, China is made up of 56 ethnic groups, with the Han people making up the majority. It has a breathtaking array of food, language, art, literature, philosophy and religion. Staying in Nanjing for a couple of years, traveling to other cities and eventually settling in Shanghai, Mashamba marvels at the wide range of things that make Chinese culture what it is. Most cities in China are noted for their local cuisine. Food makes up a great portion of any culture, and having a wide array of food cements China as one of the best cultures one can experience. From Sichuan hotpot to Nanjing salted duck, you can taste a great variety of dishes. Another typical element of Chinese culture is the seasonal holidays. The mid-autumn festival recently passed and he enjoyed and shared moon cakes with his Chinese friends. Spring Festival is yet another great time to experience China. It's an occasion that Mashamba looks forward to very much, notably because of the red envelop tradition. Different cities have different dialects and if one is ambitious enough to become a polyglot, China is an ideal ground upon which to flourish.